Intuitive Touch Screen Interface
The innovative touch screen interface provides quick and smooth operation for setting and editing various functions and memories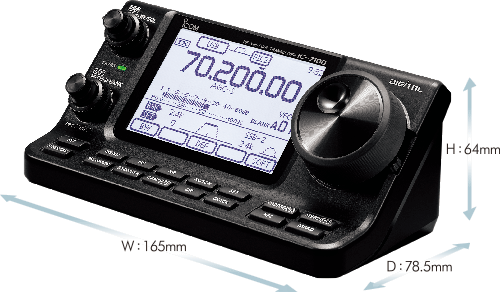 One Touch Selection
For example, if you want to change the operating band, tap the frequency on the display. The band keys will be shown to select the operating band. Touching the multi-function meter indicator for 1 second will quickly change the transmit meter functions.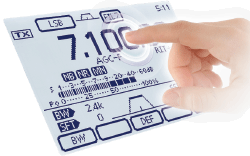 Straight Forward Operation
Just tap the mode, filter, function etc, you need to change. The touch screen responds naturally, changing your settings.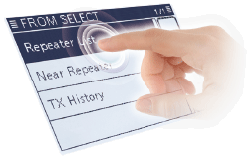 Software Keypad
Entering frequency, callsign or editing memory channels has never been this easy. The software keypad on the touch screen allows you to input alphanumeric characters incredibly quickly.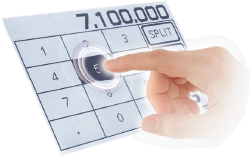 Separate control panel
The compact control panel can be positioned so that the dot matrix touch display is optimally readable and accessible. The large tuning knob allows a sensitive frequency setting.
Resistive Touch Screen
The 48.6×75.9 mm in large resistive touch screen display can be operated even while wearing gloves.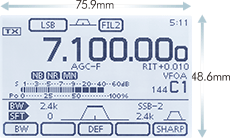 Controller Mounted Speaker and Jacks
The unique remote head design is perfect for providing loud, clear audio as well as jacks for an external speaker/headphones as well as a key and microphone.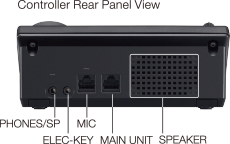 HF/50/70/144/430MHz Multi-band, Multi-mode
The IC-7100 fully covers the HF, 50, 70, 144, 430 MHz amateur bands in multiple modes, providing 100W on HF/50MHz bands, 50W on 70/144MHz bands and 35W on 430MHz band.
*Please note, this frequency range is not released for amateur radio in some countries (for example in Germany).
Digital Features Controlled by the IF DSP
A high-performance 32-bit floating point IF DSP delivers rich digital signal processing features, including digital IF filter, digital twin PBT, noise reduction, CW auto tune, etc. Those digital features work on all bands from HF to V/UHF bands.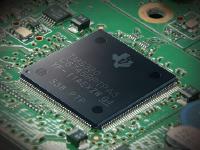 DSP Controlled AGC Function Loop
The digital signal processing is incorporated into the AGC function loop. The results of signal processing provide feedback to the AGC function. The AGC function works on the intended signal and produces a constant audio output. The AGC time constants are flexibly adjustable from slow, middle, fast (or AGC off) for each operating mode.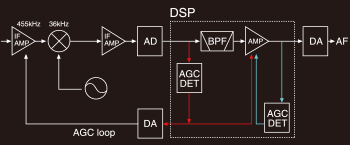 D-STAR DV Mode (Digital Voice + Data)
The IC-7100 provides D-STAR DV mode digital voice and low speed data communication.
DR (D-STAR Repeater) Mode Operation
The DR mode operation makes the D-STAR operation simple and straight forward, even if you are new to D-STAR operation.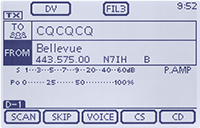 Near Repeater Function
With an external, 3rd party GPS*, search the internal database based on your location..
* External GPS receiver or manual data input required.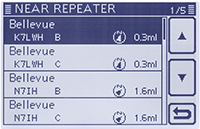 SD Memory Card Slot for Saving Data
When used with an SD card, the SD card can store various contents including voice memory, memory channels, D-STAR repeater memories and other personal settings can be saved to the SD card and can be loaded to the transceiver.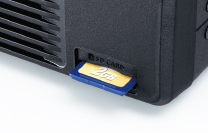 Easy Vehicle Mounting with Optional MBF-1
The combination of the optional MBF-1 suction cup mounting base and MBA-1 controller bracket provides easy tilt and swivel adjustments for mobile operation. The large suction cup can mount to dashboards or other flat surfaces and can be removed easily.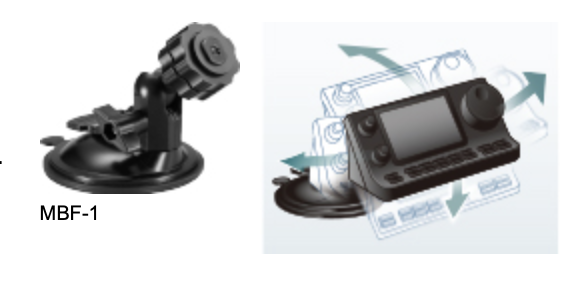 Optional RS-BA1 IP Remote Control Software
The optional RS-BA1 software allows you to operate the IC-7100 from a remote PC over the Internet or local home network.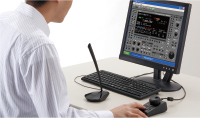 Built-in RTTY Functions
The built-in RTTY decoder allows you to instantly read an RTTY message on the display. No external TNC or PC required for reading. The eight RTTY memories can memorize and transmit often used RTTY sentences. The RTTY memory is 70 character per memory channel.
RS-MS1A, Free Download Android™ Application
The RS-MS1A allows you to connect your Android™ device to the IC-7100*. Text messages and pictures can be sent and received with your Android™ device through D-STAR DV mode.

Other Features
CW full break-in, CW receive reverse, CW auto tuning
Optional multi-function microphone, HM-151
Band scope and SWR graphic display
RF speech compressor controlled by the DSP
Voice memory function
Multi-function Meter
495 regular, 4 call, 6 scan edge and 900 DR mode repeater channels
4 channels TX voice memories
±0.5ppm frequency stability
Auto reply function*
Digital callsign squelch and digital code squelch*
12kHz IF output for DRM (Digital Radio Mondiale) receive
* D-STAR DV mode only

Supplied accessories
Hand microphone, HM-198
DC power cable
CW keyer plug
Spare fuses
Separation cable, OPC-2253
13-pin plug ACC cable
USB cable
Ferrite bead*