HF/50/144/430 MHz Multimode
From HF to 50/144/430 MHz, you can enjoy a variety of bands in the D-STAR DV, SSB, CW, RTTY, AM and FM modes. The IC-705 receives continuously from 30 kHz through the 144 MHz band. You can also enjoy FM broadcast and air band reception.

RF Direct Sampling System


The IC-705 employs an RF direct sampling system, where RF signals are directly converted to digital data. Then processed in the FPGA (Field-Programmable Gate Array), making it possible to simplify the circuit construction as well as reducing internal noise that can mask weak signals.
* The down-conversion IF sampling method is used for 25 MHz and above.

Real-Time Spectrum Scope and Waterfall Display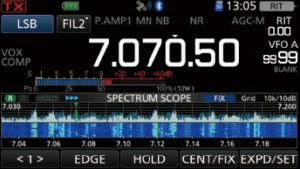 Performance seen with the IC-7300 and IC-9700 spectrum scope is at the tip of your fingers for field operation. You can quickly see band activity as well as finding a clear frequency, all in the compact radio and not as an expensive add-on.

Large Touch Screen Colour Display
The large 4.3" colour TFT touch LCD, same size as the IC-7300 and IC-9700, offers intuitive operation of functions, settings, and various operational visual aids, such as the band scope, waterfall, and audio scope functions.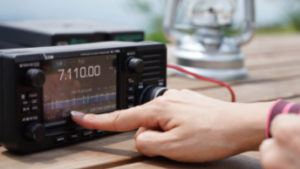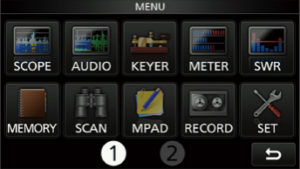 Touch screen display Menu screen example

Compact and Lightweight Design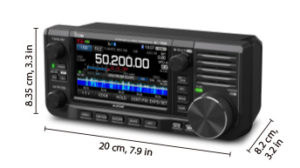 "Base Station" performance in the palm of your hand! You will quickly see how this compact radio is rugged, for outdoor use, in a small, lightweight package, weighing approximately 1.1 kg.

BP-307 Li-ion Battery Pack or 13.8 V DC External Power Supply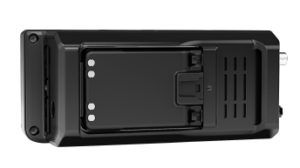 Utilizing the high capacity Li-ion battery from the ID-51E and ID-31E handheld radios.
A 13.8 V DC external power supply can be used for operation and charging of the BP-307.
(Picture shows rear panel view with BP-272 attached)

Maximum Output Power 5 W (BP-307), 10 W (13.8 V DC)
In portable mode, the IC-705 has the maximum output power of 5 W from the BP-307 which can last approximately 4.5 hours*. This is perfect for true 5 W QRP as well as the 0.5 W QRPp operations. Once you setup with a 13.8 V DC power source, you have up to 10 W.
* TX : RX : standby = 1 : 1 : 8 (The Power Save function ON, in the FM mode)

WLAN/Bluetooth® Technologies
Utilize WLAN/Bluetooth® technologies for linking and remote control*, for a true wireless operation. The VS-3 headset (optional) enables more comfortable operation via Bluetooth®
* Those features will be available with future firmware upgrades.

GPS Functions
An internal GPS receiver and antenna enhance your operations by providing location logging*, RX/TX locations via D-PRS, "Near Me" repeater search/scan, QSO recording with metadata*, and internal clock synchronization.
* A microSD memory card is required.

microSD Card Slot
The microSD card slot enables the storage of user profiles, QSO recording, TX voice memory keyer, RTTY logging, GPS data, screen capture, firmware upgrades, and programming.

Micro USB Connector
In addition to the two COM ports, radio control plus audio, the IC-705 can be charged via the micro USB port.

D-STAR Functions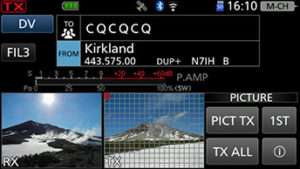 Enjoy the latest DV mode features with the IC-705. Have direct access to the D-STAR network with Terminal/Access point modes. Additionally, the IC-705 has the Photo Share feature introduced with the IC-9700. Share photos, without the need of a computer with other users with an IC-705 and IC-9700.

Programmable Speaker Microphone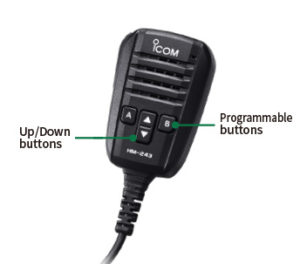 Enjoy portable operations with the supplied HM-243, programmable speaker microphone. Perfect for operation with the IC-705 safely secured in the optional LC-192 backpack. User assignable buttons put functions like frequency and volume adjustments at the tip of your fingers, without removing your backpack.

Optional Backpack, LC-192, Ideal for Field Operations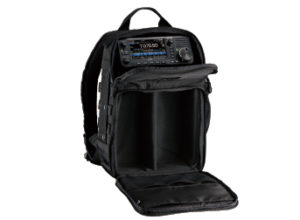 Designed to be the "Ultimate", must have accessory for the IC-705, the LC-192 is the perfect utility backpack. Features like a safety strap, with a 1/4"-20 mounting lug to keep the IC-705 from accidentally falling out of the custom radio compartment, to the user adjustable internal panels for custom compartments for antennas, battery packs, or other items necessary for an afternoon SOTA activation.

Side / Rear Panel View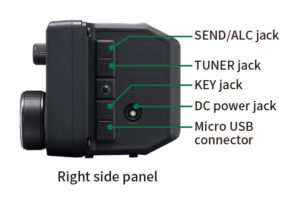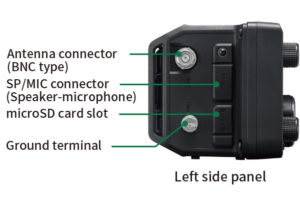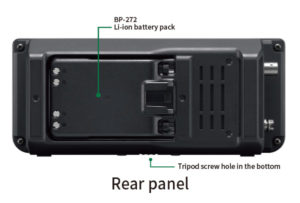 Supplied Accessories:
HM-243 Speaker-microphone
BP-307 Battery pack
OPC-2421 DC power cable